Nidaplast Honeycomb Core
This is for information only. The product is no longer available in Australia.
Nidaplast is an extruded polypropylene honeycomb material for use as a light weight core in composite sandwich panels. The core density is a low 80 kg/cu m. It features a non-woven polyester scrim thermofused onto each of the core faces, which provides superior bonding properties and peel strength. A polyethylene film is fused between the non-woven scrim and the honeycomb in order to minimise resin migration into the cells of the honeycomb.
Nidaplast provides good strength, exceptional resilience and material integrity in cored composites.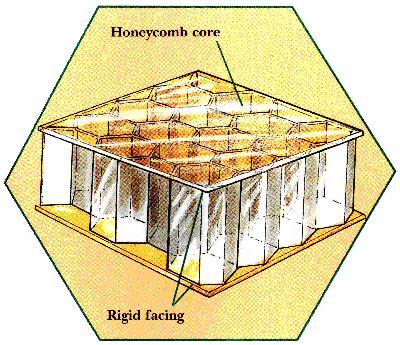 The thermofused polyester facing scrim ensures a non-peelable bond to the ends of the honeycomb cells, which avoids the perpetual problem of glued honeycomb composites which rely exclusively on the very small amount of adhesive which can bond the skin to the cell walls. The polyester scrim is compatible with all laminating resins - polyesters, vinyl esters, epoxies, and acrylics. Composite panels may be prepared by laminating face skins of many materials - fibreglass, plywood, aluminium, etc. The polyester scrim requires approximately 400 gm per sq m of resin to fully saturate and bond to it.
The polypropylene core of Nidaplast has a Heat Deflection Temperature of 105 deg C, therefore Nidaplast composites are not prone to softening in direct sunlight. Its flexibility is beneficial in enabling curved structures to be laminated in situ, such as crowned decks, curved cabin sides, etc. It has very good impact resistance and fatigue resistance due to this flexibility.
As a non-reticulated honeycomb there is no possibility of water penetration spreading throughout the composite subsequent to any localised damage. It is totally resistant to water, mild chemicals, and solvents. Nidaplast has excellent thermal and acoustical insulation properties, and acts as an efficient constrained layer sound damping medium.
In comparison with commonly used PVC and similar foams, Nidaplast shows similar values for compression strength and slightly lower values for shear and tensile strengths. Being more flexible, it has lower stiffness (modulus) properties. In turn, foams have much lower properties than end grain balsa also used for cores. Therefore design and application of composites using Nidaplast must take into account these parameters.
Nidaplast has the following approval from Bureau Veritas:
"Application / Limitation of use: Decks, superstructures, and accomodations for yachts, fishing vessels, service and working ships, and inland boats according to the Society's rules".
BoatCraft Pacific manufacture Coretech laminated sandwich panels using Nidaplast cores faced with either Gaboon plywood or epoxy/biaxial glass skins. Typical panels using 10 mm Nidaplast core with 1.5 mm plywood or 600 gsm glass skins weigh only 3.2 kg per sq m. These panels are suitable for decks, all superstructure, bulkheads and all internal fitout in watercraft of all kinds.

Nidaplast cores and Coretech panels offer the most cost effective, versatile, lightest weight panels currently available for marine and transport applications.
Enquiries
Please call Boatcraft Pacific 07 3806 1944 ( +617 3806 1944) for how to contact your nearest reseller.
Copyright Boatcraft Pacific Pty. Ltd.