Welcome to our Library.
Here you will find
Technical data on our products.

Hints and tips on using our products.

How to articles, usually employing our products.

Safety Data on our products.

How to find our factory and get through the road maze that the council has created.
This section is constantly being up dated and it is intended that it will eventually have all our product and application literature available on it.
If you move your mouse over the blue menu at the left, sub menus will "fly out". Some of those sub menus in turn have "sub sub" menus. Click on the ones of interest to go to the actual documents.
Here is a early example of what the flyout menus look like when they have "flown" out.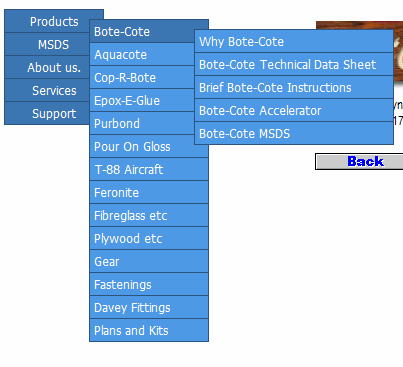 We hope this answers your questions, if not, please call us on 07 3806 1944 and we will try to help.
The gang at Boatcraft Pacific.
Enquiries
Please call Boatcraft Pacific 07 3806 1944 ( +617 3806 1944) for how to contact your nearest reseller.
Copyright Boatcraft Pacific Pty. Ltd.