Aquacote Polyurethane Top Coat
Two pack, water based, ultra high performance.
Colour Card
Please note that the colours you see on your computer will be different to the actual paint colours. This is because every computer monitor presents the colours a little differently. There-fore please just regard this as a guide to the available colours.
We STRONGLY suggest you obtain a copy of our printed colour card before deciding on your colour selkection. You can order one here.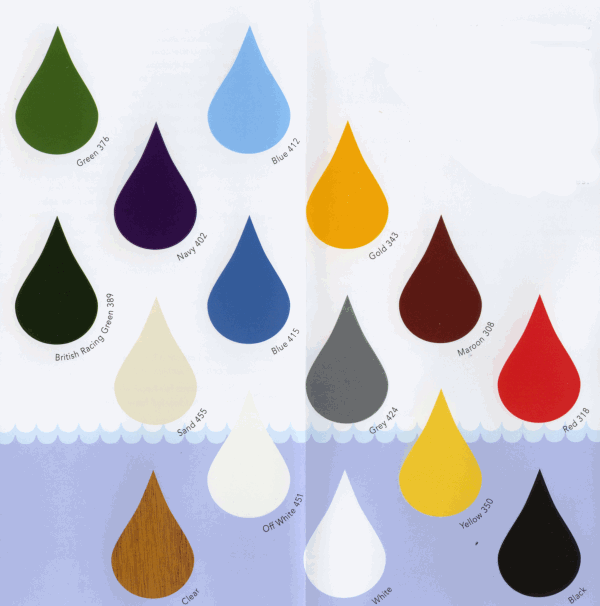 The British Racing Green 389, the Navy 402 and the Red 318 are based on clear bases and their opacity is not as good as the other colours. To obtain a superior result, they must be painted over a uniformly coloured undercoat, which should be white (our standard high build primer colour). Due to their high pigment loading, they need to be power mixed for 5 minutes before addition of cross linker, and they finish with a mid gloss only. A high gloss finish can be obtained by over coating with the clear.
All Aquacote Top Coat finishes can be cut and polished to obtain an ultra high gloss finish.
Please contact the factory for custom colours. This may require an additional charge, not all colours are possible and custom colours may not be able to be repeated.
WARRANTY
BoatCraft Pacific Pty. Ltd. warrant that all products complied with the company's manufacturing standards at the time of shipment. All statements, technical information and recommendations are based on tests we believe to be reliable; they are given in good faith, but without assuming any obligation or liability. As we have no control over the conditions under which our products are being used or their method of application, no warranty, expressed or implied, is made as to the effect of such use or the results obtained, and neither seller nor manufacturer shall be liable for any injury direct or consequential arising out of the use of or inability to use our products.
Enquiries
Please call Boatcraft Pacific 07 3806 1944 ( +617 3806 1944) for how to contact your nearest reseller.
Copyright Boatcraft Pacific Pty. Ltd.